Ramsey's Royal George serves up new look and new menu
21 Jun 16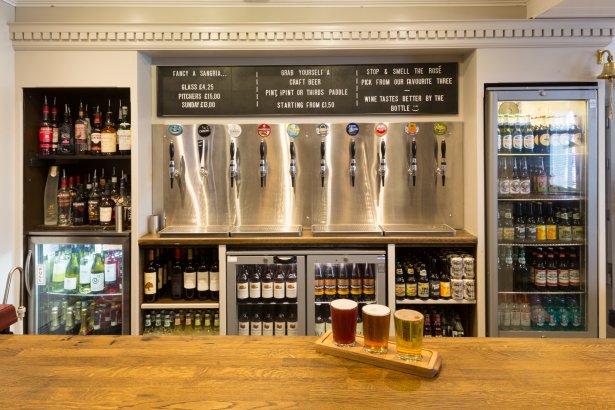 Ramsey is set to be all the more 'Royal' when the Royal George reopens on Thursday, June 30 with a new look after its refurbishment.
The Heron & Brearley pub in Market Square already has a new pavement café area and is now serving a new all-day food offering, Bella Pizza, a range of stone-baked pizzas, also available for takeaway. When the Royal George reopens it will reveal a completely new look.
Heron and Brearley's operations manager Diane Edington explained 'The Royal George's pavement café and Bella Pizza offering have been very well received since they were launched just ahead of TT. We've now closed the pub for its interior refurbishment, which further strengthens our commitment to Ramsey. We're excited about the future of the Royal George, and we hope our customers will enjoy the comfortable and contemporary surroundings and this popular pub's new product offers.
'Refurbishing the Royal George is part of H&B's programme of upgrading and re-imagining our managed estate in response to our customers' expectations. This includes our focus on new brands including Bella Pizza, which can also be found at the Highwayman, Peel and the Railway Douglas and in our Fine Ale & Food brand already proving a 'hit' with customers at the Swan, the Crosby and the Colby Glen '
'Pubs are changing and it's vital we listen to our customers evolving preferences, which demand ever higher standards of service and quality as well as a more family-friendly approach with flexible opening hours and creative kids' menus. We've also broadened our drinks offering this summer with a comprehensive range of craft beers, wines, minerals and quality coffee. It is against this background of shifting consumer trends that we have also taken the decision to close Nightlife in Ramsey on Saturday, June 25 and also the Pinewood in Pulrose on Wednesday, July 6 as we focus on developing the overall standard of our estate.'