Over 25 years at H&B
15 Feb 22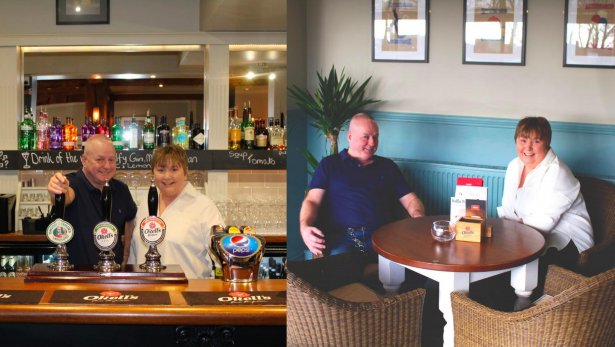 Brendan and Jenny have a long history with Heron and Brearley, starting as valued bar staff and supervisors and quickly learning the trade and becoming truly part of the H&B family in their dream pub. Jenny talks through the story of how they got to where they are now and the journey to find their way.
"I moved over from Ireland in 1995 after a Summer visiting my sisters, a chance meeting with Brendan through my sister and I never left! In a similar way Brendan found his way over here after visiting for just a weekend and choosing to stay and work here with one of his close friends!
I never expected to find myself in the pub trade, I had come over to the Island with the plan of returning and taking over the floristry I was working at (what a different life that would have been!) I think Brendan had always had an interest and so it wasn't so much of a leap for him when we got our first job together at The Queens. It was just after a refurbishment in '96 and H&B were looking for staff, Brendan and I worked under the fabulous supervision of Sonny and Ethel who taught us the ropes.
H&B were supportive from the get go, when it came to training and experience we were given every opportunity to progress our career and quickly had the opportunity to become relief managers for The Prospect and the The Cat with no Tail (we already loved it back then!) and thanks to the incredible support and coaching we received from Julie and Stan, Brendan and I became the full managers of O'Donnells within a year.
Over the next 5 years our two daughters arrived, by this point we were completely engrained in the H&B life and I even got Brendan to bring me the end of week books to the maternity ward so I could get them sorted and was happily back behind the bar that weekend! After a move to The Queens (one of our favourite pubs!) we took a break and had some family time with the girls. Only for a few years, and if I'm being honest we missed it, the life, the H&B family and being with the public.
When we re-joined the company in 2013, it was amazing to find the same support and attention still available, I realised how much I had missed it, it really is a lifestyle, not a job. We have been at The Cat for 5 years now (?!), with a focus on food and family and really are in an incredible position, we have an amazing balance of life at the pub and time together, thanks hugely to a great team. There is a great deal of trust in every aspect of our work, we are trusted as the pub manager's to deliver what is needed, and in turn we trust our staff to uphold the companies (and our) ideals so we can step away.
H&B is completely a part of our life, the girls were practically born into the company and work alongside us regularly with one becoming the companies youngest Designated Official, a true family from top to bottom.
Favourite memory: whilst working at the Queens during TT, in typical Purple Helmet fashion they came riding through the bar (back when they were allowed to!) leaving a huge skidmark in front of the bar! The customers went crazy and the boys stayed and played around, signed autographs for a while- fantastic fun!"
Jenny & Brendan O'Loughlin are currently managers at the Cat with no Tail. Heron and Brearley are currently recruiting for general managers and management couples for our estate.