Mannin Retail Ltd Contract to run central Douglas Post Office
30 Jul 15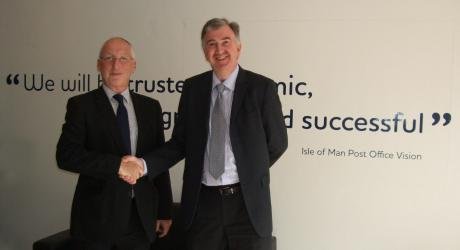 Isle of Man Post Office is pleased to announce that it has now signed the contract with Mannin Retail Ltd (Mannin Retail) to provide postal services in central Douglas, starting in September of this year.
Mannin Retail, which operates the Spar brand on the Island, have strong retail sector experience and already run five Post Offices around the Island to a high standard, providing excellent service to customers. Mannin Retail will take over the running of the Regent Street Post Office in early September 2015.
The Douglas Post Office will remain in the Regent Street Post Office building for the short term, continuing to offer the full range of postal services whilst preparations are made for a new shared store in central Douglas. This arrangement allows the Regent Street building to continue to be occupied whilst Isle of Man Post Office considers plans for the redevelopment of the property, which it recognises is located within a key part of the Douglas regeneration area. This interim solution will also ensure a smooth transition to the newly operated Post Office.
Customers of the central Douglas Post Office will continue to enjoy the same level of service from some of the staff from the existing Regent Street branch supplemented by Mannin Retail's experienced Post Office staff. There will also be some new faces from the local community who will undergo extensive training in preparation for their new roles.
To improve service to customers Mannin Retail will extend opening hours from 08.45 to 17.45 on weekdays, opening an extra 15 minutes at each end of the day. Also, as part of a trial to extend weekend opening hours, the centrally based Post Office will remain open until 16.00 on Saturdays (currently Regent Street Post Office closes at 12.30pm).
Graham Cregeen MHK, Chairman of Isle of Man Post Office said: "We are pleased that the contract has been signed with Mannin Retail Ltd to provide postal services in central Douglas at what will remain the Island's biggest and busiest Post Office. Mannin Retail have experience of running five other Post Offices to a high standard. We are confident that the existing service levels will be maintained and we are particularly pleased with the improved opening hours which are even better for our customers. With a number of our employees having chosen to take up positions with Mannin Retail, we are confident this transition will be as smooth as possible for our customers."
Peter Whittaker, Managing Director of Mannin Retail Ltd said: "We are very happy to announce commencement of operations at Regent Street from early September. Our outright aim is to provide both a familiar and improved service. There will be a few changes of 'face' at the Regent Street counters and we are offering customers extended opening hours; we will open earlier, close later and we will also be opening on Saturday afternoons."
Explaining Mannin Retail's plans, Mr Whittaker said: "Continuity is key. There will be no fundamental changes, but we aim to improve the Post Office experience for customers by applying our proven standards as a convenience chain to the comprehensive services on offer."