Five Year Deal Secured Through Local Market Leading Partnership.
22 Apr 16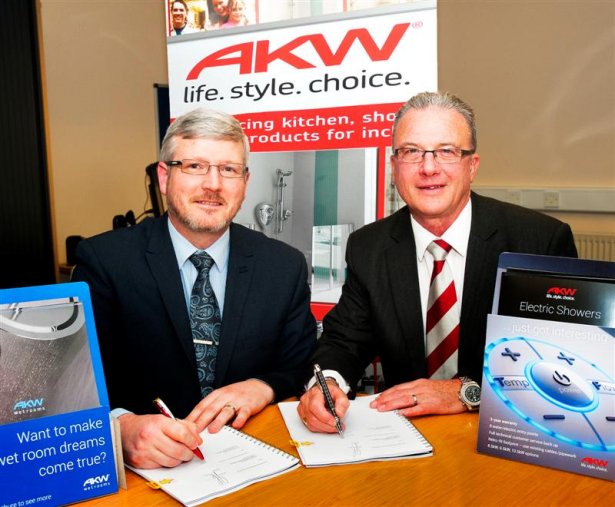 Trade Distribution Limited (TDL), established in 2000, has become one of the Islands leading logistics businesses, employing over 100 staff and operating from a purpose built 60,000 sq.ft. warehouse and distribution centre in Kewaigue, continues to make significant inroads into the UK after it secured a further five-year contract with Braddan-based manufacturer of accessible bathroom, kitchen and daily living products, DLP and its Droitwich Spa-based sales and distribution subsidiary AKW.
TDL has been exporting products for DLP from the Isle of Man to the UK for more than 10 years and in 2011 were asked to look at their UK distribution operation with a view to providing a bespoke, upgraded service. After an 18-month project researching and reviewing every function across the AKW business, the solution was presented to the client with a new, customised proposal, enhancing every aspect of the distribution delivery chain including warehouse storage and handling, which led to securing an initial five-year contract in February 2013.
Such has been the success of the partnership and service provided, AKW have awarded TDL a new contract for a further five years and similar distribution projects for some of their larger supply chain members are planned to be integrated into the contract in the near future.
DLP's Operations Director, Mr. Bruce Lockton, said: 'Over the first three years of the contract AKW had reported 100 per cent delivery completion on-time and damage-free deliveries. TDL's service, which offers a real-time track and trace facility, had also led to substantial savings in 'throw away' packaging and helped to reduce the company's carbon footprint. What's been particularly encouraging is that thanks to TDL's new distribution model and its associated benefits, AKW have secured incremental business.'
TDL's managing director Steve Pickett said: 'As a market-leading local company with an international client base our reputation is defined by our quality of service and ability to deliver on time, every time. TDL understands that and came up with a bespoke solution that responded precisely to our brief and to our customers' expectations. The productive links we have forged with our clients, both existing and new, on the strength of TDL's enhanced distribution model have been invaluable. It's fair to say that for TDL, the opportunity to work with such co-operative and progressive organisations as DLP and AKW has helped us to gain added insight into what is a highly complex industry, which we will look to apply to our growing customer base.'
Steve also added: 'To have been awarded a further five-year contract is a tremendous vote of confidence in the TDL team; it also shows the mutual benefits to be had from partnership working. It's also great news for the Isle of Man; a bespoke solution devised, developed and delivered by an Isle of Man company, for another Isle of Man company which, together, are achieving great things for their respective brands in the UK.'