Woodbourne Hotel voted Isle of Man CAMRA Pub of the Year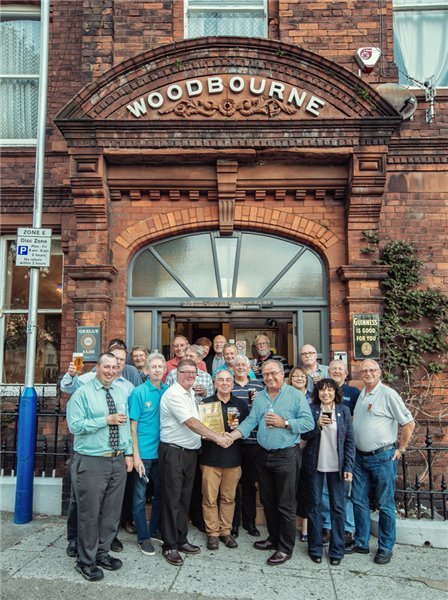 Heron & Brearley's Woodbourne Hotel in Douglas has been voted Isle of Man CAMRA Pub of the Year 2015.
The pub's manager Andrew Harris said: 'Being voted Isle of Man CAMRA Pub of the Year is fantastic news for all the team and something I've been working towards for a good number years. I'm especially delighted that we've had this recognition in 2015, as it's my 10th year with the Woodbourne and the first year when a managed house in the Isle of Man has won this award.'
CAMRA Isle of Man branch chairman Martyn Anderson said: 'Andy and his team are to be congratulated on this award which isn't just about the beer, it's about the consistency of the overall Woodbourne "product" and it's that which has led to the Woodbourne earning this accolade.'
H&B's retail estates director Steven Taylor said: 'For the Woodbourne to be recognised by such a respected independent organisation as CAMRA is tremendous news and testament to all the hard work put in by Andy and his team, along with the many "behind the scenes" teams who contribute to creating a really great customer experience.
'I was particularly pleased that not only Martyn Anderson but also CAMRA's chief executive Tim Page was able come to the Woodbourne to present the award and share in our celebrations. For a managed house to win this award is an achievement in itself, but to be the first managed house in the Island to win is a real coup, not only for Andy and his team and, of course, for Heron & Brearley, but also for the hospitality industry in Isle of Man.'
H&B's head of technical services John Cojeen added: 'Gaining this award is fantastic news and I'm pleased that the hard work of Okell's brewery and H&B's technical services teams has been recognised by CAMRA, an organisation that understands the complexities involved in consistently delivering great beers in premium condition. As with CAMRA all of us at H&B and Okell's - a brewery with more than 150 years of brewing tradition - take beer and training extremely seriously, hence the many awards our products have won, so we can now add this latest one from CAMRA to our rapidly expanding trophy cabinet.'
The Woodbourne Hotel will now go on to enter the West Pennines regional round of CAMRA awards later this year.
CAMRA members gather outside the Woodbourne as manager Andrew Harris, front row third left, is congratulated by CAMRA chief executive Tim Page, third right, and CAMRA Isle of Man branch chairman Martyn Anderson. Picture Liam Gilman