Mannin Retail partners with Hospice Isle of Man to introduce contactless donations at its SPAR retail stores to help raise vital funds for the charity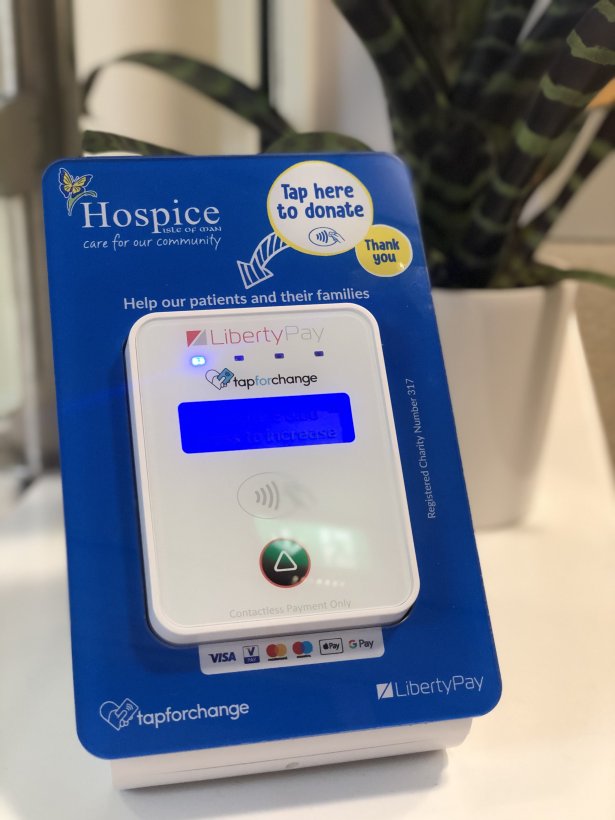 Hospice Isle of Man has partnered with the Island's leading convenience and petrol forecourt operator, Mannin Retail, to launch its new contactless donation technology, 'Tap2Donate', into selected Spar stores across the island, as the charity embraces an innovative new way to generate vital funds. It is thought that Hospice Isle of Man is the first major adopter of the technology on the Island.
Hospice is playing an important role during the COVID-19 pandemic, and as the Island's only provider of specialist end of life care, the contactless donation technology makes it easier for people to support the charity at a time when like so many other organisations, it has seen a rapid drop in funding.
Talking about the Tap2Donate technology during the current situation, Hospice Isle of Man Chief Executive, Anne Mills, said:
"The rise in 'digital giving' and online donation platforms, is proving beneficial in helping raise vital funds for charities and right now, adopting such technology has never been more important. Each year we need to fundraise over £4.5 million towards our annual running costs which, this year, will be particularly challenging in light of the COVID-19 pandemic."
"We have such fantastic and generous supporters on the Island and we know that they are very keen to help us right now in these difficult times. Given the current apprehension around handling cash, we wanted to make it easier for our supporters to spontaneously donate to us by simply tapping their contactless donation device at one of our terminals located at key SPAR retail stores to donate £2. The partnership with Mannin Retail is a great opportunity for us to introduce the technology to our supporters and we are very grateful to them for offering to help us."
The Hospice Isle of Man Tap2Donate devices will initially be located in six SPAR stores across the island: Anagh Coar, Bucks Road Douglas, Union Mills, Ballaugh, Willaston and Clagh Vane (Ballasalla).
Speaking about the partnership, Vic van den Heever, Managing Director of Mannin Retail said:
"We are delighted to be able to help Hospice Isle of Man continue providing their vital role as their fundraising activities have been severely impacted due to the coronavirus pandemic. We take our role in the community very seriously and appreciate the unique connection our stores and forecourts have with the residents of our towns and villages. It's a connection we hope can help Hospice in its vital fundraising activities. Each tap goes some way to helping make a life-changing difference to patients and their families, ensuring that the charity can continue to support some of our community's most vulnerable people.'
The contactless donation technology has been used for several years and has been widely adopted by major charities around the world, including many Hospices in the UK. Its introduction represents a significant step forward for Hospice Isle of Man and it is hoped that the public will respond and help it to continue helping those who need them now, and in the future.