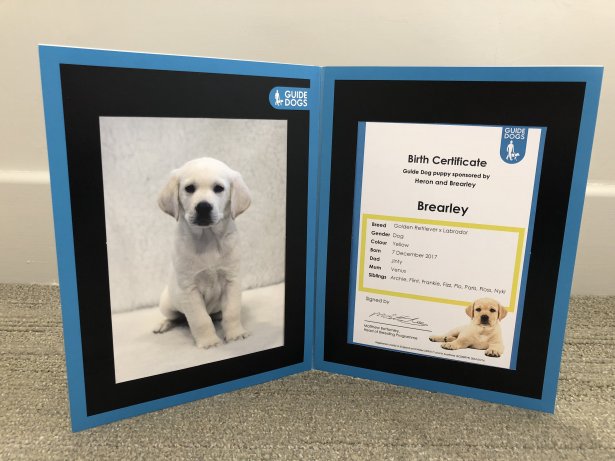 We would like to introduce Brearley, their first sponsored Guide Dog.
Born on the 7th December 2017, Brearley is one of 8 beautiful Golden Retriever x Labradors puppies. For now, he is an uncoordinated bundle of fluff but over the next few weeks and months, he will begin his transformation into a responsible Guide Dog.
Marketing Manager, Marie Kinvig explains 'As part of our sponsorship, we get to follow Brearley every step along the way and we should receive his first official training PUPdate in the next few weeks.'
The introduction of Brearley is the fruition of months of fundraising by all of H&B's businesses, including Isle of Man pubs and convenience stores.
Marie adds 'Since April, we have all been working hard organising events and fundraising activities to achieve our first target of £10,000. We know we couldn't have achieved this without the fantastic support of our teams and customers and for this, we are truly thankful.'
Work has now begun on reaching the company's second target of £20,000 to be able to sponsor the training of a second puppy. In the most recent count, the company has stormed ahead and raised a total of £13,320 to date.
To keep up to date with Brearley's transformation and all the upcoming fundraising activities, visit www.pubsandbars.im or find us on Facebook, @Pubs&Bars.