H&B Managed Estate Awards celebrate outstanding achievements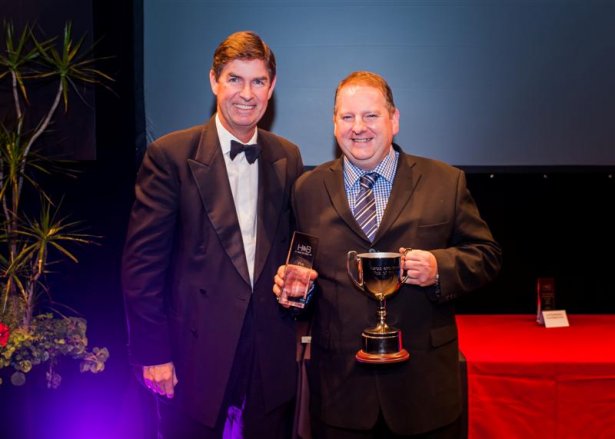 Employees' outstanding achievements have been recognised in the Heron & Brearley Managed Estate Awards 2014.
Compèred by Manx raconteur Roy Moore, well-known as one of the 'voices' of the TT and Manx Festival of Motorcycling, and with entertainment by stand-up observational comedian Alun Cochrane, the black-tie event was held at the Gaiety Theatre on January 22nd.
Ahead of the awards presentations the audience of H&B senior management, employees and sponsors, heard H&B's retail and estates director Steven Taylor say: 'These awards are a great way to recognise the skills and dedication required by our team to successfully overcome the challenges that are ever present in our industry.'
18 award categories were presented at the event which also provided the opportunity to congratulate and present certificates to the 43 H&B employees who had successfully completed their industry-accredited FLOW hospitality training modules.
H&B managing director Ian Lennox said: 'The awards night was a great way to acknowledge the hard work, achievements and vision of so many of our people across our business. As the Island's leading hospitality company, it is important for us at H&B to recognise those who are championing fantastic service and contributing to better standards overall for the Isle of Man. And, with a good number of our g uests and sponsors who attended having come from the UK, the evening allowed us to showcase the Isle of Man to a new and wider audience.'

'Congratulations must go to all the finalists and winners and thanks to the team that organised such a fantastic evening. Day to day we are all focused on driving the business and delivering value and quality to our customers. The awards evening not only gave us an opportunity to celebrate success but also to reflect on the past and look to the future - a future in which everyone in the H&B Group has a vital role to play.'
(Pictured are H&B managing director Ian Lennox with Terry Burns, manager of The Queens, Pub of the Year. Photo Matt Mosur)
The H&B Managed Estate Awards 2014:
Pub of the Year - The Queens
Community Pub of the Year - The Union
Local Pub of the Year - The Manx Arms
Best Night Out Pub of the Year - Artisan
Best Support of the Year - Geraldine Jordan
Best Newcomer of the Year - Jamie Napier
Best Cask Ale - The Stanley
Best Compliance Pub of the Year - The Bowling Green
Best Financial Improvement of the Year - Sam Webbs
Best Sales of the Year - Thomas Rigby's (Liverpool)
Best Customer Service Pub of the Year - Artisan
Chef of the Year - Tim Brogan, The Whitestone
Best Food Pub of the Year - The Horse and Plough
Bar Person of the Year - Hannah McGuire, Thomas Rigby's
Assistant Manager of the Year - James Parry, Thomas Rigby's
Team of the Year -The Terminus Tavern
Manager of the Year - Ashley Burgess, Sam Webbs
Outstanding Contribution - Fiona Hornsby, Thomas Rigby's