H&B goes back to the Viking Days!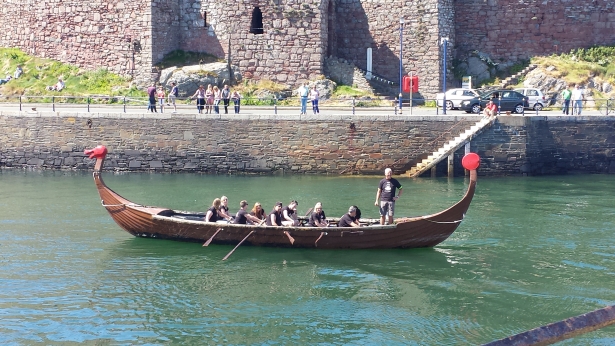 Even with a delay in racing on Saturday, the team rallied together on Sunday to have a few drinks and row some boats. The weather was perfect; sun beaming and a light breeze as we were arriving bit by bit to the Creek Inn. We spent time catching up and prepping ourselves for the hard labour to come, keeping one ear out for which team was next. However, when the moment came (a little sooner than we had hoped) it was a mad dash to get to the start and tumble into the boats.
Then we were off. The first team Hopeless & Blottoed had an (almost) synchronised feel to start off with; this was held together by a dream team at the front of the boat; Enthusiastic Ian Shilling and Military Helen Simpson. They kept the team in line and occasionally a good stroke or two snuck in. As the first team pulled in, there was shouting heard across the water as two additional girls were needed for Team 2; Pam Stanley and Charlotte Cowley were the first there, so with little choice hopped in to row again!
This second team did not have the same synergy as the previous group and the only timing they held, was comic. So between splutters of laughter and giggling they set off, a steady start led to some of the team getting a little cocky, oars were all over the place and many team members were getting a lot of splash back. However this didn't bother the Heroes & Zeros as they raced on, as the turn came up and the oars went down the team could see the finish line and the final push began, the frivolity of earlier was forgotten as the cheering began for them to return home. Once safely in, the teams returned for a celebratory pint- as this year, no one had "fallen" in the water!
Hearing rumours that even teams who do not place receive prizes, Rachel Kelly and Charlotte Cowley decided to see what they could collect for the teams. As if by fate, they arrived at the exact time the "Best Brewery Prize" was announced and walked in to claim a case of Carling for team 1, which they carried proudly on their shoulders back down the Quay.
It was a great day with plenty of laughter, sunburn and drinks. (in that order).
Our two H&B teams entered and came 23rd and 28th out of 32 (A huge step up from last year!). The Raven also sponsored the winning mixed team of the day so a big well done to them!
Well done to -
Winners of The Best Brewery Team in 23rd - Hopeless & Blottoed 02:33.29 and their team of Helen Simpson, Ian Shilling, Neil Sharpe, Mark Edington, Di Edington, Jamie Napier, Pam Stanley, Jonny Dixon, Rachel Kelly and Charlotte Cowley.
And in a close 27th - Heroes & Zeros 02:40.29 Michael Corlett, Shaun McEntee, Pam Stanley, Charlotte Cowley, Leigh Watson, Judith Cusack, Mark Bonser, Liam, Hayley Pilling, Andy Wheeler (Thank you to Pam and Charlotte, who rowed twice to make up the teams).
Winners of the mixed race 1st place – Ravens Raiders – sponsored by the Raven and made up of Raven customers.