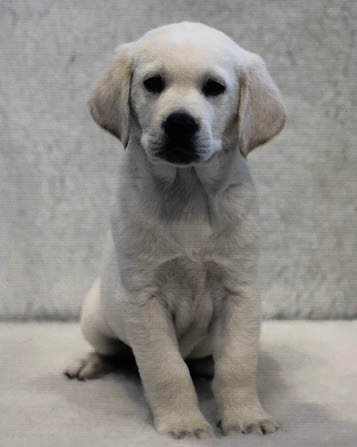 We've recently been in touch with Brearley's Puppy Walker, Jane, to find out how he's getting on in the final few months that he'll be spending with her before he makes the move to 'big school'.
According to Jane, Brearley is progressing well in all areas of training and has mastered all of the basic obedience commands now, and will perform them promptly when asked. The only area of training that Jane is giving a little more focus to is Brearley's dog distraction. It is slowly improving when he is on the lead on a training walk, but it is still a work in progress at this stage, so Jane will continue to focus on this in the coming months. Brearley can now maintain the basic guiding position, which is on Jane's left side, just in front of her, and with light to moderate tension on the lead.
When he's walking around a busy town centre, Brearley continues to take everything firmly in his stride and doesn't tend to get too distracted by the crowds of people. Brearley has now had lots of practice walking up and down flights of stairs and getting in and out of lifts, and we're pleased to hear that he's done brilliantly with both of them. Brearley continues to travel well on public transport; Jane told us that he always settles well after he's had a little scavenge for crumbs on the floor.
In the coming months, Jane will be taking Brearley to the countryside where he'll see horses, sheep and cows, which we're sure he'll enjoy. When he's out and about, Brearley will stop and stare at birds but he hasn't shown any strong desire to chase any, which is good to hear.
We hope that you've enjoyed following Brearley's journey over the last 10 months or so. He's come such a long way in the time that he's spent with Jane and we look forward to celebrating his first birthday in a couple of month's time.