Brearley's Second PUPdate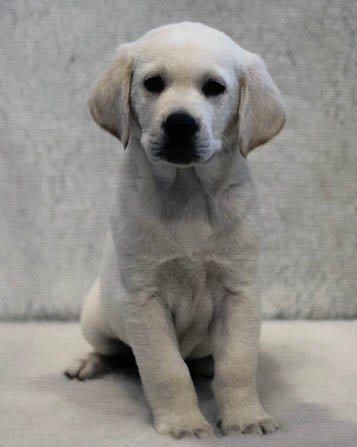 It's hard to believe Brearley has been with his Puppy Walker, Jane, for over six months now. We recently spoke to Jane to find out how Brearley has been getting on and what they have been up to.
Jane was pleased to tell us that Brearley is a soft, loving and fun pup who is keen to explore and always shows interest in training, which is lovely to hear. Brearley is a sociable boy and is great with people and children, although he can be a little 'keen' with other dogs, which has caused a bit of pulling whilst out on walks, but Jane has been working on this with lots of treats.
Brearley has recently started wearing his puppy jacket on training walks, and we hear he has taken to very well. This jacket is designed to help a pup to gain access to more public places and will also help make Brearley's status as a guide dog in training more visible. Brearley has taken to wearing this jacket with ease, and he is starting to understand that when he's wearing it he needs to go into 'work mode', and become more focused on the task ahead.
Jane has been taking Brearley on plenty of free runs and he has been enjoying exploring the fields and parks on his own four paws. Jane tells us that Brearley's recall is good, and if there are no other dogs around, he will come back swiftly to Jane when called. However, if there is the temptation to play, then Brearley will take a while to come back, and sometimes Jane may even have to go and get him. Jane is working hard on this, and tells us that after he has finished going through this current 'rebellious teenage phase', she expects that his recall will improve.
Jane is happy to leave Brearley and Kirby, her 10-year-old pet dog, home alone together for brief periods, as Kirby has a mature, calming influence on Brearley. She was pleased to report that when left, Brearley is calm and content, and simply settles down until Jane returns. Brearley's spending routine has also been coming along well and he is starting to get cleaner on their training walks, which is great to hear.
Transport is an important part of any guide dog's training, and Jane has been taking Brearley on a variety of forms of transport. We hear that although Brearley is now great on both buses and trains, he did however, have a phase of disliking trains after a very loud train come past him and gave him a fright. Brearley quickly recovered from this and Jane tells us that he is now doing very well. Negotiating stairs and lifts have also been on the pair's agenda; Brearley is taking them beautifully, with a calm and steady pace, and is very responsive to Jane's commands.
Jane enjoys taking Brearley out into towns and busy, built-up areas, where he has been coping well with the hustle bustle of shoppers and commuters. We were also pleased to hear that loud, sudden noises have no effect on Brearley; he is unconcerned by sirens, horns and even the recent thunder storms. Jane will sometimes like to stop off at a cafe or restaurant where Brearley needs to settle down quietly, and although he can be fidgety at times, he is mostly good. Jane tells us that overall, he is improving slowly: she is working on improving his attention span, and he is becoming more responsive, as he gets treats when qulet.
Brearley will soon be off to a boarder for the first time, this gives the opportunity to let him adapt to a new situation and environment, and it will be good to hear how he gets on. Jane is also planning on taking him to a visit to a Girl Guides meeting, and she thinks he will be a big hit with them, given how cute he ls!
Jane tells us that Brearley is a lovely boy who is proving to be a quick and responsive learner. At home when he's not training, he enjoys playing with his toys and having fun with Kirby. We hope you've enjoyed his latest pupdate and we look forward to sending you his next report card soon.